Washington D.C. Spring Tour Stop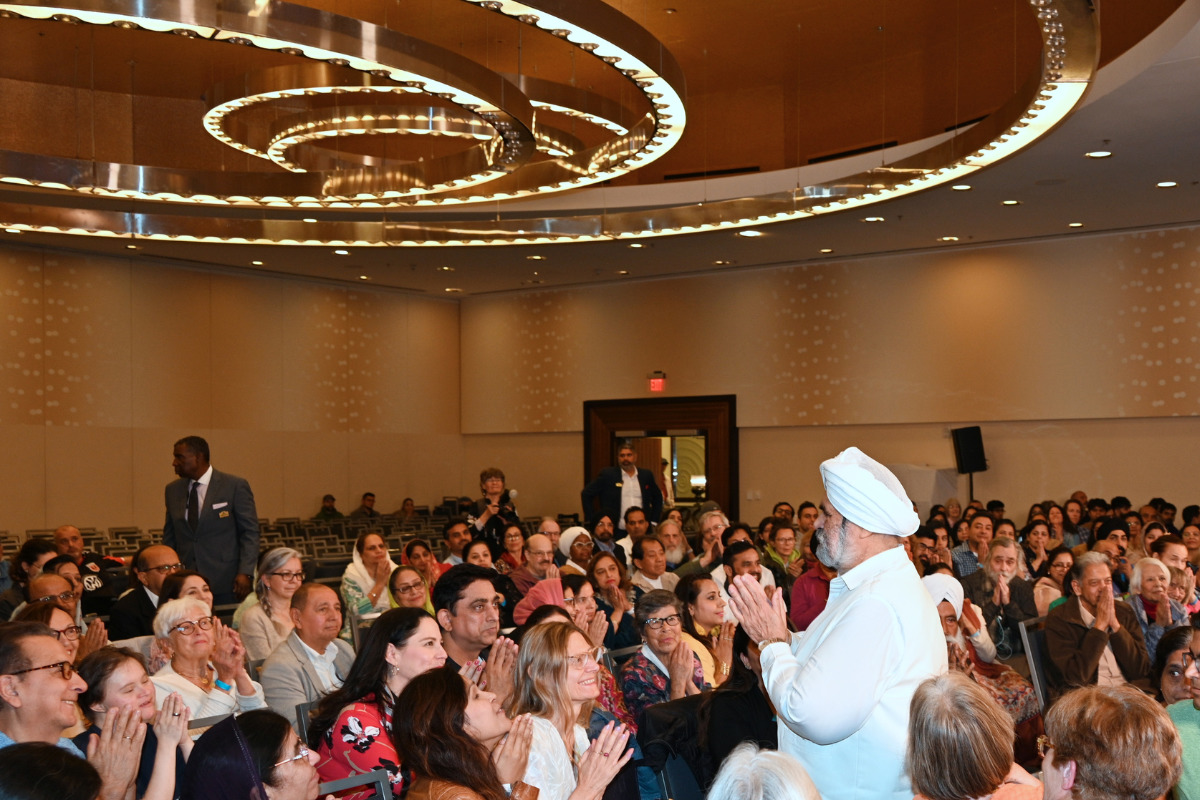 May 18, 2023  Inauguration  Sant Rajinder Singh Ji Maharaj, accompanied by his wife Mata Rita Ji and son Dr. Kunwarjit Singh Duggal, arrived in Washington D.C. for a two-day spiritual program. The highlight of the first day was the inauguration of the Science of Spirituality (SOS) Center at 2950 Arizona Avenue NW, Washington D.C. The property, purchased in 2013, is in a beautiful, tree-lined residential community, two blocks from the Potomac River and five miles from the White House.
The heart of the center is a sanctuary used for spiritual gatherings and meditation. During the past ten years, the SOS Center in Washington, D.C. has served as a place for spiritual growth and personal reflection, hosting numerous interfaith programs that are open to all.
Commenting on its excellent location—surrounded by nature's bounty, and within close proximity to well-known academic institutions and iconic monuments—Sant Rajinder Singh Ji spoke of the vital role of such a center in building human connections, helping spiritual seekers, and uplifting the community. He encouraged everyone to make the most of the center, to work together harmoniously, and to always strive to have positive, uplifting thoughts when there.
May 19, 2023  Detox the Mind for Lasting Peace and Happiness   Sant Rajinder Singh Ji spoke at the Renaissance Arlington Capital View Hotel in Arlington, Virginia. The hall was filled to capacity with visitors and spiritual seekers from around the world. He introduced his talk, "Detox the Mind for Lasting Peace and Happiness" and explained that peace is the absence of strife. Yet, stress and strife remain a part of our daily lives.
Living at the level of our physical senses and believing that we are only physical beings, we pursue means to detox the body to achieve the happiness we seek. Yet, despite detoxing the body, our lives remain filled with stress and strife. If we are to find lasting happiness, what is needed is not a cleansing of the body, said the spiritual Master, but a detoxification of the mind, which is the root cause of the stress and strife that wreak havoc in our lives.
Detoxing the mind is the realm of the saints and spiritual Masters. They help us realize and recognize the poisons of anger, greed, attachment, panic, and expectations that plague us. They help us remove these toxins from our system by reconnecting us with God. All that is of matter eventually decays with time, he said. Only God is permanent. To find permanent happiness, we must connect with the Creator. We need to have a direct experience of our relationship with God and recognize the presence of God in our lives. We can do so through the ancient technique of meditation.