ALL NEWS
October 30, 2022
New Book "Detox the Mind" Released in India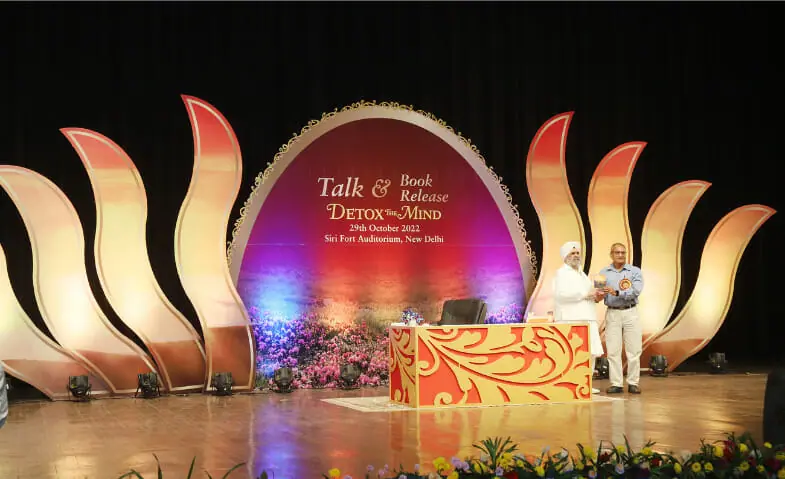 This evening, international best-selling author Sant Rajinder Singh Ji Maharaj presided over the release of his latest book, Detox the Mind, for audiences in India. Held at the Siri Fort Auditorium in New Delhi, the program was broadcast worldwide. The spiritual Master explained that the concept of physical wellness through detoxification has been popularized over the last two decades. Yet while we have new techniques to cleanse our bodies, we often find ourselves devoid of complete fulfillment and happiness.
"A toxic mind blocks our connection to the wellspring of unconditional love, ecstasy, and peace. Detoxing our mind enables us to dive into a pool of all-embracing love, bliss, and joy within," said Sant Rajinder Singh Ji.
These toxins, in the form of worry, regret, fear, envy, prejudice, anger, greed, and attachment, cause mental stress and strain. Through the mind-body connection, they can also manifest as disease or pain. Importantly, these toxins shroud our soul and keep us from experiencing the contentment and spiritual upliftment we seek.
This book is a blueprint for identifying and overcoming the causes of stress. Each chapter features exercises to reinforce approaches that will enhance the reader's life experience. Clear instructions and engaging anecdotes make the user-friendly text accessible to all.
Explaining the goal of his book, Sant Rajinder Singh Ji has said: "A life free from stress, fear, anxiety, and depression awaits you. You can wake up looking forward to a day filled with peace and joy. Imagine how wonderful life could be if you could replace stress with relaxation and happiness. You can take simple steps to make this dream a reality. Detox the Mind is a journey into relief from anxiety and stress."
Detox the Mind was released in English and Hindi by featured guests Prof. Dipendra Nath Das, Pro Vice-Chancellor, Jawaharlal Nehru University, and Prof. Dhananjay Joshi, Vice Chancellor, Delhi Teachers University. Each attested to its valuable and inspiring message. For more about the release event please see the Daily Guardian
Sant Rajinder Singh Ji also emphasized the immense value of meditation to achieve happiness and inner peace. Before leading the global audience in a short meditation sitting, he gave instructions on a simple meditative technique everyone could use.
Detox the Mind is available in paperback, eBook (Kindle), and audiobook format (English) on the Amazon website. Visit DetoxTheMind.org to discover more details about the book and how it is transforming lives. Find it in English, Hindi, Spanish and Hungarian.
Contact: media@sos.org. For more information about Sant Rajinder Singh Ji Maharaj and Science of Spirituality, click on www.sos.org.